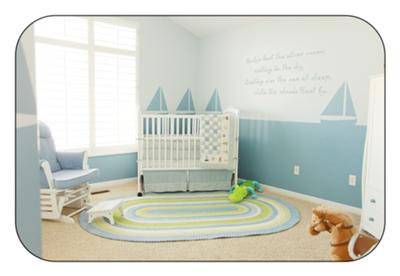 Preparing for baby's room or nursery is probably something that is a challenge and a pleasure for parents, because its involve how to choose lots of things such as the theme, bedding, curtains, lighting, rugs, other accessories, and of course budget. Since the election of the wrong equipment will affect the development of the baby itself, especially in the selection of the bed.
It is not easy to find nursery ideas, but don't worry here are some advises for you. First is safety, do not just because you want to impress cute and nice, then you put all the stuff that is not necessary for the needs of the baby so that the baby's room even make uncomfortable viewing and not safe. So before you buy nursery equipment should inspect the product safety guidelines.
Second is decoration, if you want a decoration that looks beautiful and elegant, you can make the decor is in keeping with the color combination, preparation of the place or position of the right furniture to be placed.  You can browse various nursery themes internet for more decorating ideas.
Third is budget, Creating a beautiful nursery does not have to ruin your wallet and keep in mind that not all that expensive stuff is good. So buy the goods according to your budget and needs.